From the club to the studio, Roland's VAD (V-Drums Acoustic Design) hybrid drum kits are designed with one goal in mind: to blend the look and response of a traditional acoustic kit with the groundbreaking electronics of the V-Drums family. Real wood shells with Roland's legendary tuneable mesh heads supply a quiet and custom response, from the crack of a cranked snare to the wooly give of a classic kick drum. And Roland's rubberized multi-zone V-Cymbals serve up the expression you need to craft dynamic and compelling musical ideas night after night. Roland's next-level TD-27 sound module and latest digital pads provide an unprecedented level of acoustic realism. It's all powered by Roland's Prismatic Sound Modeling engine and PureAcoustic Ambience Technology, which allow you to tune, muffle, size, process, and re-mike any piece in your kit. Kitted up with a full set of traditional hardware (not included), the Roland VAD506 sports a formidable look that'll make your performance stand out in fresh new ways.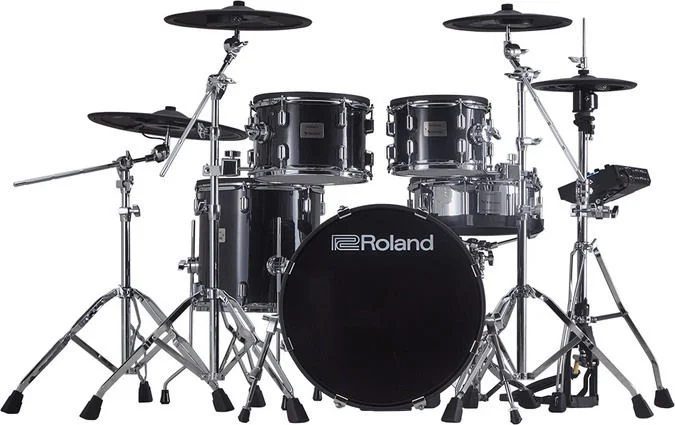 Hands-on module interface
Browsing kits, tweaking sounds, and saving custom presets in the VAD506 are walks in the park, thanks to the TD-27 module's dedicated knobs and hands-on interface. Tuning and muffling have their own controls. And buttons around the jog wheel ensure you never get lost in sub-menus. The knurled knobs and rubberized selectors all feel great in the hands — which is important on a tool you might use for hours on end.
Powerful Prismatic Sound Modeling
Every onboard kit within the VAD506 is crafted to sound great without tweaks. But for times when you need a custom kit for a particular performance, Prismatic Sound Modeling — derived from the flagship TD-50 — has you covered. You have control over each drum shell's tone and tuning. Each cymbal's size and liveliness. You can even control virtual mic placement to dial in the perfect amount of natural ambience and life. Once you've found your sound, sweeten kick, snare, or toms with onboard FX, including rich reverb and smooth tape-like compression.
PureAcoustic Ambience Technology
The VAD506's PureAcoustic Ambience Technology creates an immersive soundstage that really makes you feel like you're there. PureAcoustic tech lets you dive deep into sound tweaking, too, allowing you to adjust virtual microphone positions like a real recording studio, then balance each part of the kit with outboard-style FX processors.
Full-size wood shells, tuneable mesh heads
Nothing looks and plays like a wood drum. The VAD506's full-sized wood shells and tuneable mesh heads supply the feel of your favorite acoustic kit, all with an easy-to-control acoustic output that's easy to control onstage or in a residential setting. Shells come decked out in a premium Roland Midnight Sparkle wrap and feature chrome hardware for an unmistakable look from the platform or in the studio.
Roland V–Drums Acoustic Design VAD506 5-piece Electronic Drum Kit Features:
Blends the look and response of a traditional kit with groundbreaking V-Drums electronics
Makes a strong impression onstage or in the studio
Full-depth wood shells outfitted with Roland's legendary tuneable mesh heads
Multi-zone V-Cymbals serve up lifelike expression and dynamics
Next-level TD-27 drum module gives you hands-on control over kit sounds
Digital 14″ snare and 18″ ride yield unprecedented realism
Prismatic Sound Modeling technology lets you tune, muffle, size, and process any piece in your kit
PureAcoustic Ambience Technology creates lifelike soundstages through virtual microphone placement